Guinevere Weddings
We help brides-to-be with large families enjoy a stress-free, memorable, and intimate wedding weekend experience at our all-in-one guest farm and wedding venue, accommodating up to 50 guests for the wedding and 32 overnight guests, without breaking the bank or wasting months on booking multiple services.
Please get in touch with us for our updated wedding brochures for 2023 and 2024.
We also offer discounted rates for all midweek and winter weddings.
We look forward to assisting you create the wedding of your dreams!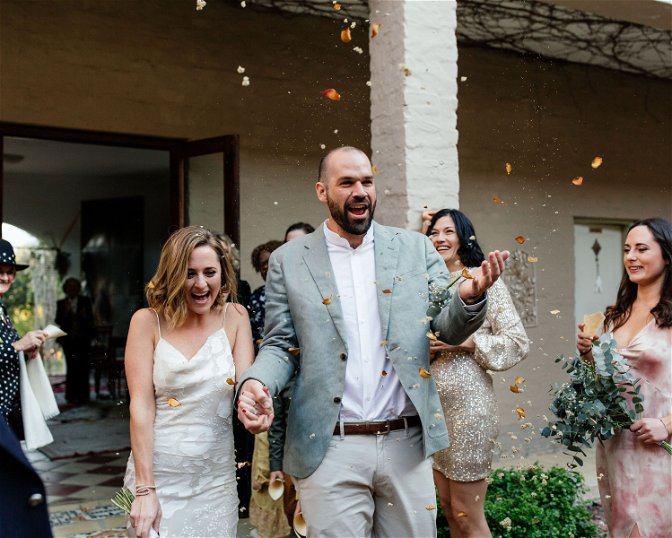 The Venue
On a perfect day it's best for your ceremony / reception to take place outside on our front lawn. The views are incredible and the lush garden will provide a gorgeous landscape.
On windy or cooler days we have a central courtyard and a few other areas inside the house where the ceremony and reception can be held.
If it rains, our dining hall and lounge area has a cosy fireplace and can seat up to 50 pax comfortably for the reception or ceremony. Dancing can take place here or upstairs in the pool lounge.
Accommodation
The farmhouse- sleeps 32 guests
Guinevere Guest Farm is rented out as a whole unit for a minimum of 2 nights on weekends and sets the scene for an unforgettable weekend long celebration!
Please check out our reduced rates for all midweek weddings
For extra guests accommodation we recommend Waterval Country lodge or Le Reve, their contact numbers will be provided on request.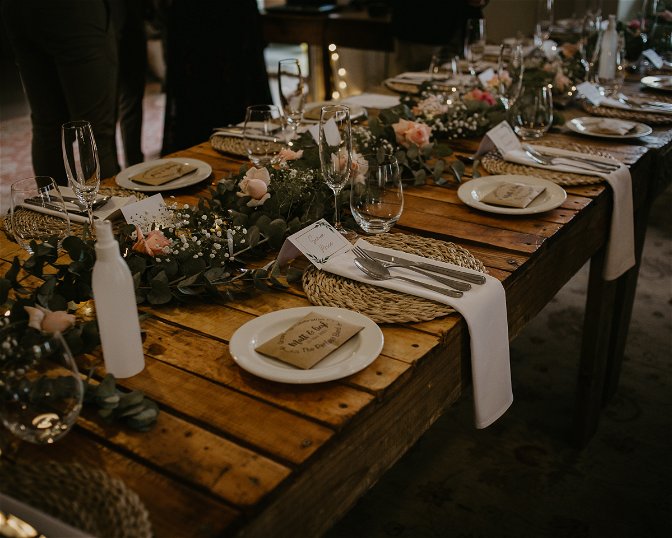 Facilities/Wedding decor
We provide some extra furniture, equipment, fynbos foliage and classic wedding decor which is included in the wedding packages. Each package is different so please have a look at the brochure and see what suits you best.
The brochure also has a list of recommended service providers such as caterers, decor hire, photographers, DJ's bar staff and anything else you may require for your special day. You can also email us and we'll send through all the information.
2023 & 2024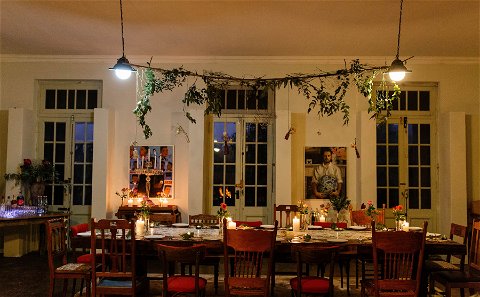 Basic Package 2023 & 2024
Please enquire for our rates and package add ons
This package is for 2 nights accommodation over a weekend and includes
-Ceremony chairs and dining tables and benches
- Wedding arch
-Extra staff service throughout the weekend
A maximum of 32 guests can be accommodated for the weekend and wedding. Surcharge applies for extra wedding guests above 32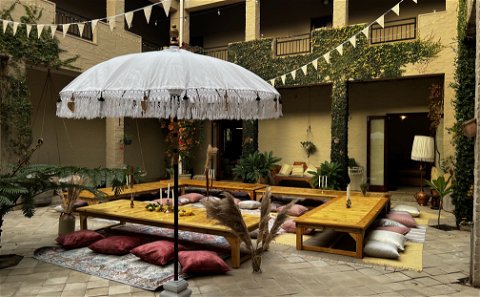 Boho Package 2023 & 2024
Please enquire about our rates and package catalogue
This package is for 2 nights accommodation over a weekend and includes
-Gorgeous boho themed decor, tableware, dinnerware and glassware
-Ceremony chairs and dining tables and benches
- Extra staff support throughout the weekend
A maximum of 32 guests accommodated for the weekend and 50 wedding day guests 
Guest Reviews
This was the most spectacular venue. Huge. Spacious. Beautiful. Detailed. I cannot encourage more bridal couples to consider this venue enough. You will not regret it. And the Spar and Butchery in town are amazing. Seriously. Give it a good consideration.

Wendy Nevin

We hosted a Yoga & Breathwork retreat this past weekend at Guinevere. What a treat! Large spacious rooms and with beautiful view from all the upstairs rooms. We all felt so relaxed in this lovely setting in Tulbagh. Thank you!🥰

Celeste Cohen

A peaceful place that will connect you to nature, slowing down and bring loved ones together. An incredible space for intimate weddings, retreats or big families. I will go back again, and again. Staff are incredible and so friendly and helpful which makes all the difference!

Melissa Delport

For any family gatherings or events I would 100% recommend Guinevere Guest Farm. The house is beautiful and spacious with ample room for all. It is well equipped and the staff will go out of their way to make the stay as smooth and easy as possible. On top of all this it is surrounded by the most bTeautiful farmland and mountains. This is truly a special place and... Read this review

Michael Shaw
Frequently Asked Questions
How many people can you accommodate for the wedding?
We can accommodate up to 80 people for your wedding. However we have only included enough ceremony chairs, tables, dinnerware and decor for 50 guests. Should you wish to increase your guest list please speak to us directly and we will happily assist you.
Can we view the venue before booking?
Yes! We prefer you to come and view the venue so you can make sure this is the space for you. We offer a complimentary glass of bubbly on arrival for you and 4 of your besties. There will be someone available to show you around the house and answer all your questions.
Can the bridal party check-in earlier?
Yes, check-in for the bridal party is at 11am (if we don't have a group checking out the day before)
Or at 1pm if we do have guests checking out the day before.
The rest of your guests may arrive from 3pm onwards
Do you have a liquor license?
Yes we do.  
Micro-manufacture on- & off-consumption – Wine farm / Wine Cellar / Brewery / Distillery 
What is included in your packages?
We will send you our package catalogues and brochures when you email us. This has all the info you need. We are also available to hop on a call to answer any questions you have.
Do you have a backup space for the ceremony and reception if it rains?
Yes we do. We have a few spaces to choose from inside the house, depending on the size of your guest list. Our dining hall can comfortably sit 50 people for the reception. The ceremony can be held in the entrance hall and can also sit 50 people. Otherwise we also have a 60sqm yoga studio which can be used for the ceremony only, and the lounge and entertainment area upstairs is also suited to the reception or ceremony space.
Is your venue wheelchair friendly?
Unfortunately it is not. We only have stairs leading up to the second floor. If you have wedding guests who are using a wheelchair they can be accommodated for the day if you do not make use fo the second level.